One-stop Solutions to Kindergarten Set Up
One-stop Solutions to Kindergarten Set Up
Cowboy Project is recognized and favored in preschool classroom setup, preschool outdoor playground customization and daycare indoor playground design.Cowboy provides complete preschool holistic program settings for all, making the educational journey of child learners more personalized and meaningful.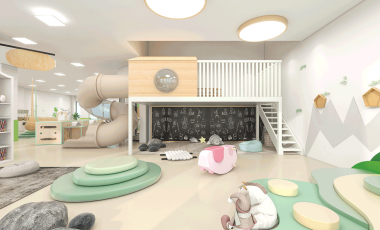 Montessori, Reggio, and free play are all education philosophies that promote individuality, creativity, and self-expression. Montessori emphasizes hands-on, self-directed learning that encourages children to work at their own pace. Reggio encourages children to explore their interests and learning through real-life experiences and collaboration. Free play promotes imagination, social skills, and problem-solving through unstructured playtime. By combining these three philosophies, children can grow and develop in a holistic and natural way, building a strong foundation for lifelong learning and success. Our curriculum embraces these principles, allowing children to thrive and become confident, fulfilled individuals.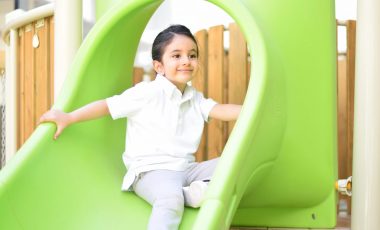 At kindergarten, we believe that outdoor play is an essential part of a child's development, and outdoors activity area is designed to provide a safe and enjoyable environment for children to explore and learn.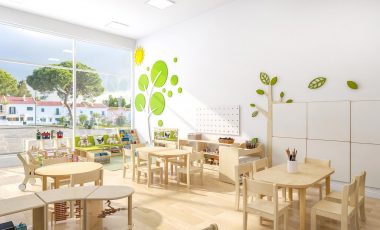 We pay attention to the free growth of kids and aim to provide a variety of "expressive, communicative and cognitive languages" for kids to learn actively.The overall creative space is open but connected somehow. Natural light is introduced into the rooms to achieve a perfect transition between the rooms and the natural.Kids and teachers feel free and comfortable here.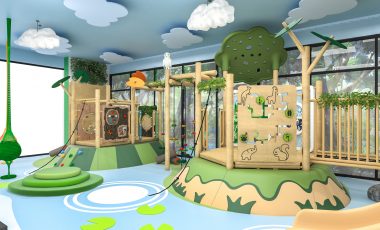 Maplebear Nursery School in Sharjah is the ideal place for your child to begin their educational journey,which is dedicated to providing children with the best education possible in a nurturing and safe environment. At Maplebear, we believe that every child is unique, and our curriculum is designed to develop their individual interests and abilities.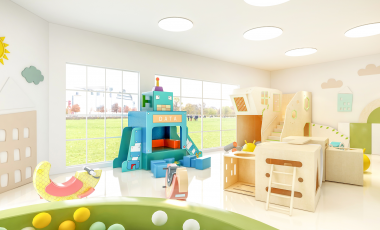 According to the school's British education EYFS teaching philosophy, to create a supportive environment with rich choices, which kids can experience and challenge different fields at their own pace.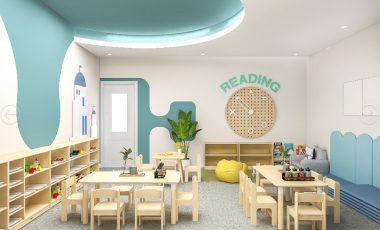 The background wall of the reception area is designed in the shape of a sail, and the reception desk combines the shape of a sailboat with soft decoration of lighthouses and marine animals to create a marine theme style, thereby providing a space for children to talk freely and a waiting space for visiting parents.
One of the most important aspects of early childhood education is a safe, nurturing environment conducive to learning. We provide customized design services for child's education experience.Our team of experienced designers understand the specific needs of a preschool or kindergarten setting. Our designs are not only aesthetically pleasinq, but they are also practical and meet safety standards.
After evaluating and communicating with the owners, we will carry out professional and special planning and design for
their area.
Negotiate agreement and sign the contract
Based on the customer's need, we will adjust our proposal reasonable until they accept it with satisfactions. Prepare quotations and contracts based on final proposals
Quality is fundamental, Integrity is the foundation, Trustworthy for the living
Cooperate with the customer relationship, product, and design scheme, delivery, and installation services, set up a core management team for specific customer (Group) projects, realize the normalization of customer interface, and better help customers achieve business success.
Provide 2D Concept Proposal

Custom Kindergarten
Preschool Design
one Stop Manufacturer for Preschool, DaycareCentre,Kindergarten,International SchoolL,Indoor Kids Center
COWBOY GROUP was founded in 2003, is the top manufacturer of preschool furniture,indoor & outdoor playground equipment in China. We are specialized in kindergarten & child care center design, production, and installation for international schools and kids' playgrounds.With our great efforts and continuous improvement in quality, we get high reputation in domestic and overseas markets and our products are sold well in the USA, Canada,Australia, Europe, Singapore, the Middle East, as well as other countries and regions.
Intelligent Kindergarten Preschool Project VR Show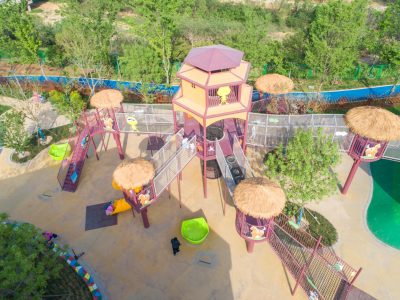 The Cowboy Group won the Golden Crown Award for "Outstanding Unpowered Equipment Supplier"
The selection of the 2022 Golden Crown Awards hosted by"Amusement Park" has come to a successful conclusion,after public solicitation, review and nomination, public announcement of the candidate list, expert voting, public judge voting, reconsideration and other stages.Finally,Cowboy Group stood out from more than a hundred high-quality enterprises with the successful landing of the Zhengzhou Overseas Chinese Town Secret Adventure Children's Playground Project, and won the "Outstanding Unpowered Equipment Supplier" award.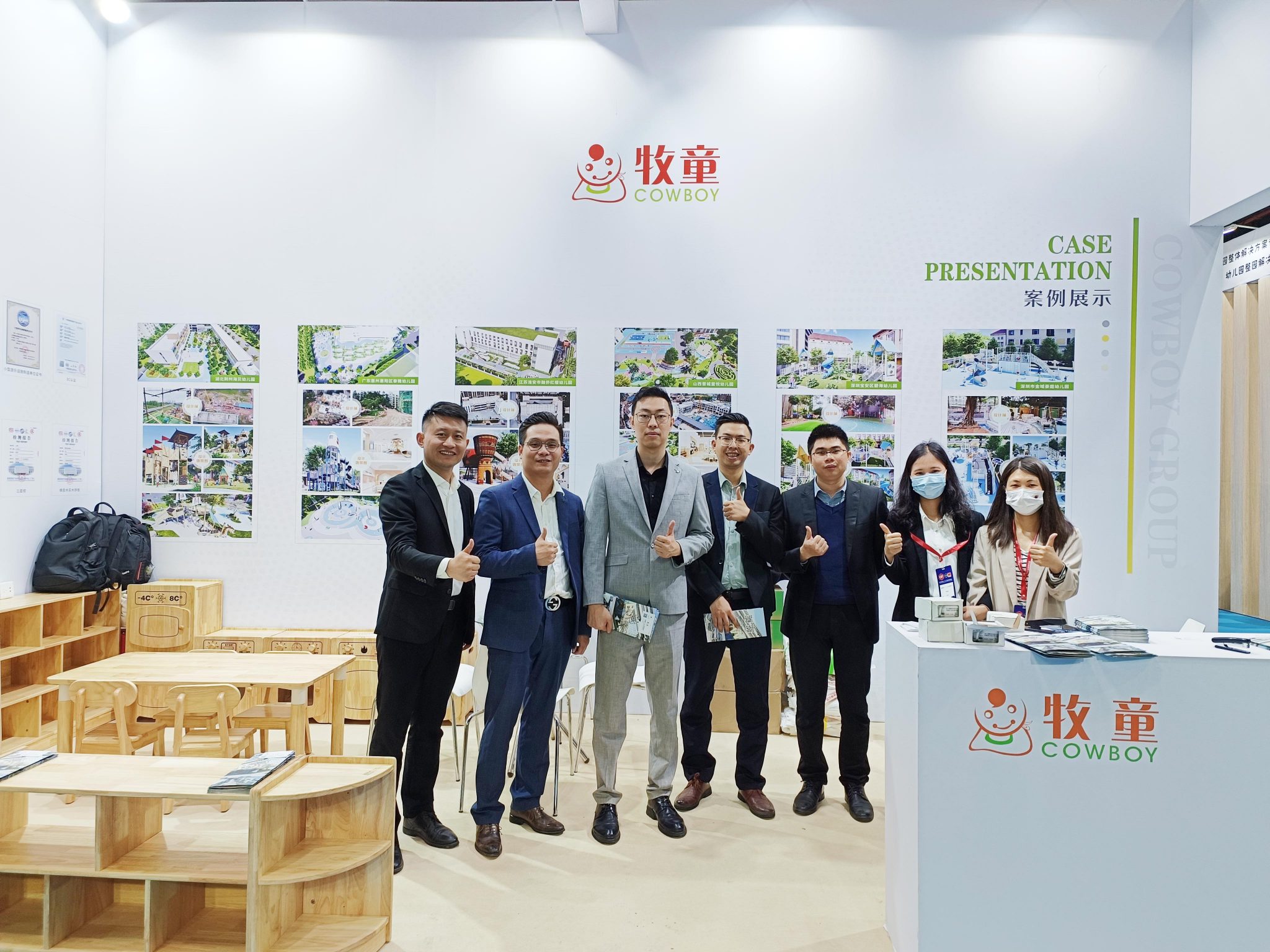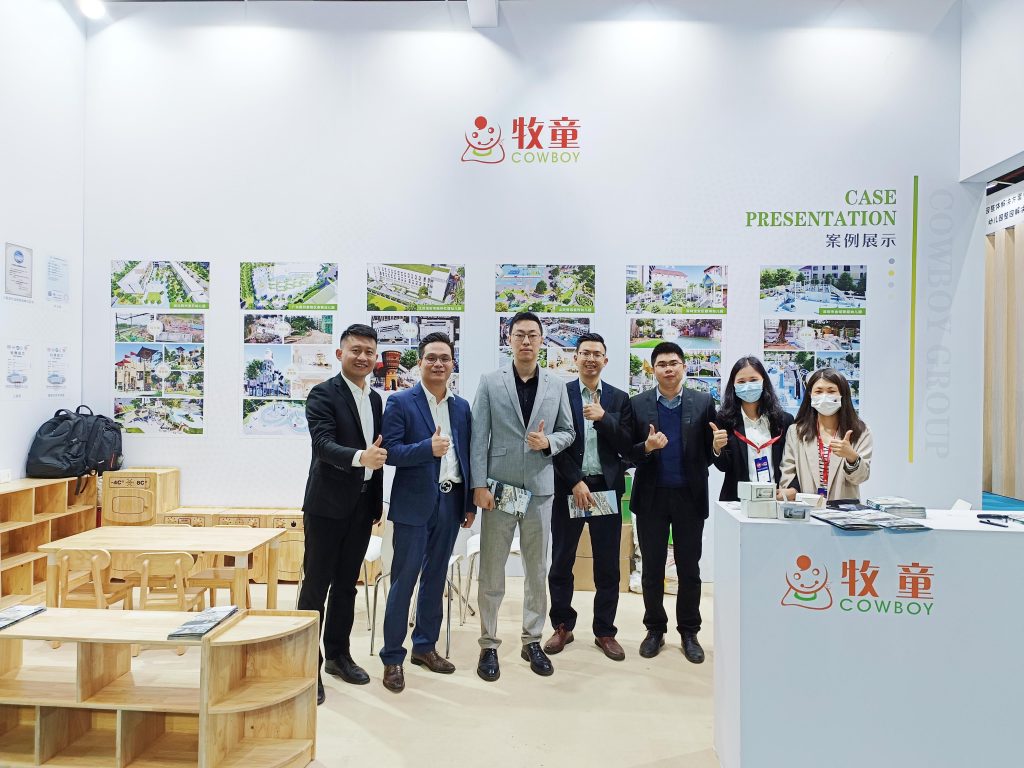 Cowboy Group invites you to meet at the 51st China(Guangzhou) International Furniture Fair
The 51st China(Guangzhou) International Furniture Fair will be held in the Guangzhou Canton Fair Complex Poly World Trade Expo during the March 28 ~ March 31, 2023. Cowboy Group(Guangdong) Industrial Co.,Ltd. participate in this exhibition and look forward to all customers or investors coming to Hall B-S11.2C15 to provide one-stop professional consultation on customized design solutions for preschool/kindergarten/daycare.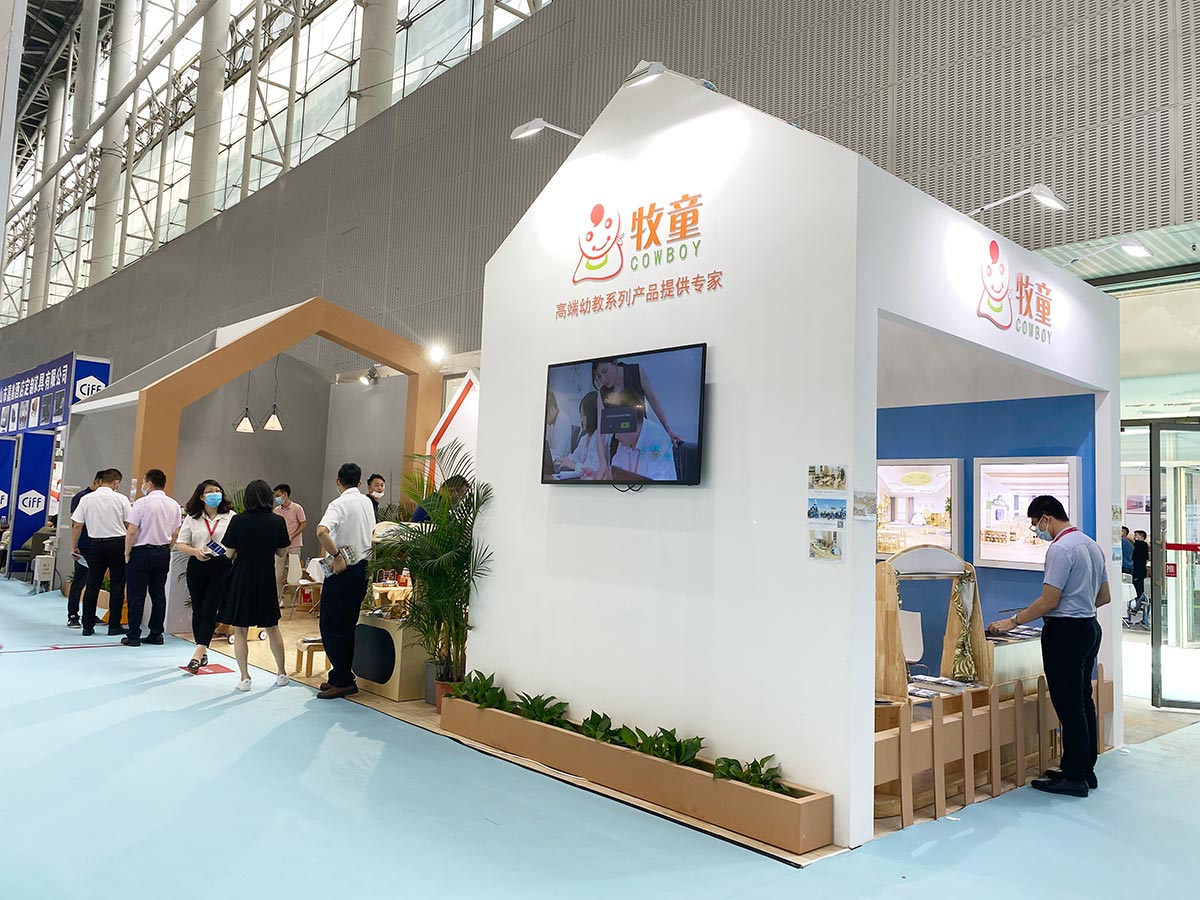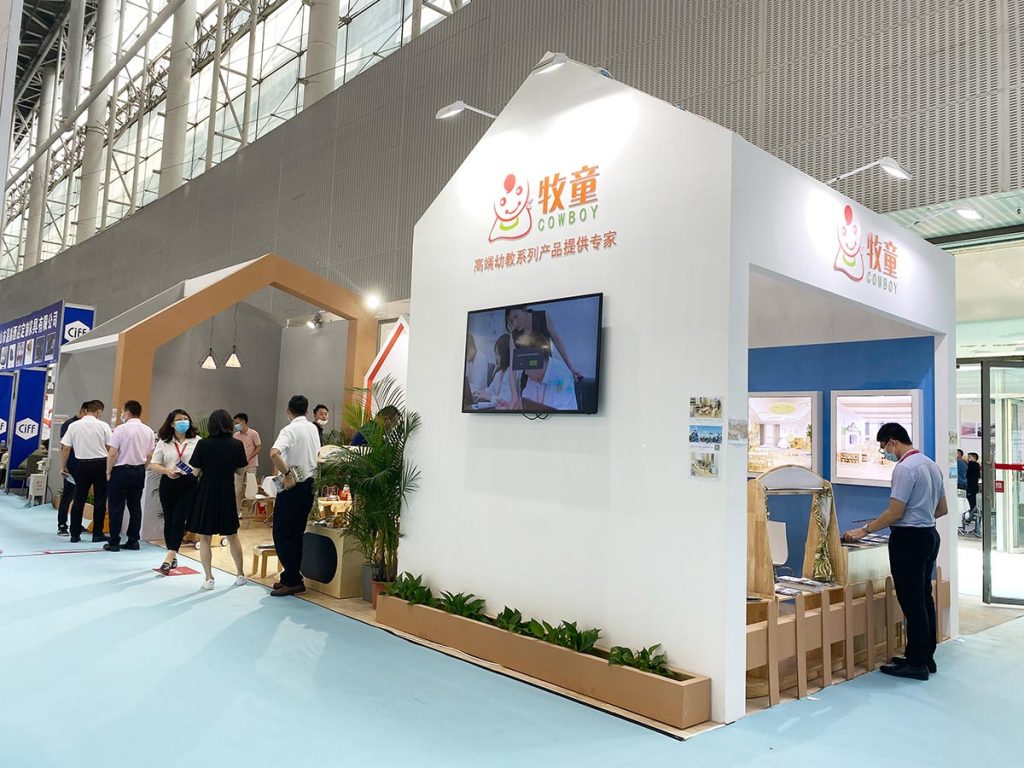 Cowboy to Participate in 2023 Dubai Entertainment Amusement & Leisure Exhibition
Cowboy, a leading manufacturer and supplier of preschool furniture, indoor playground equipment and outdoor playground equipment in China, today announces that we will be participating in Entertainment Amusement & Leisure Exhibition in Dubai on March 14-16,2023 at Booth 1-A17 exhibition.