Project Address: Huizhou ,China

Suitable Age:2-6 years old kids

Project Size:5000㎡
Listen
That's the sound of the Star Explorer taking off
The explorers are about to set out
Star a fancy planet trip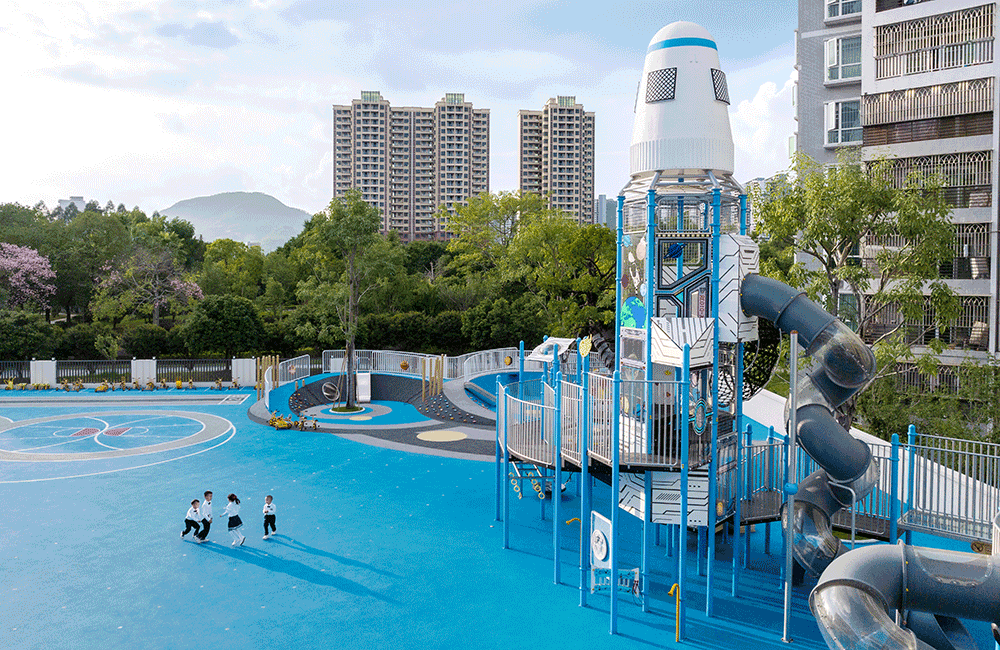 There is a group of natural explorers who are curious about the mystery and unknown and is full of hopes for the stars and universe. Therefore, We built a "Science Fiction Playground" for this group of explorers.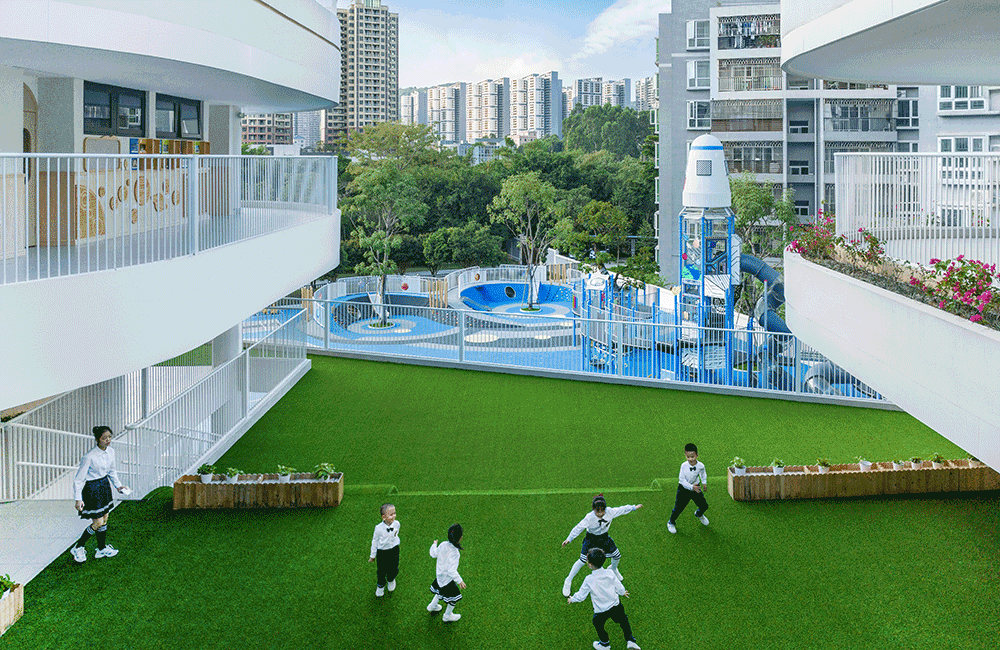 Taiya kindergarten was created by Cowboy Group, and the outdoor play area was designed based on the planet, rocket and other related elements, while the indoor interest workshop was built according to the multi-life scenes. Here,Taiya Kindergarten covers what children love, think and should cultivate.
Space Adventure Action
Children place themselves in the vast universe,broaden their minds in playfulness,and understand the world with their hands.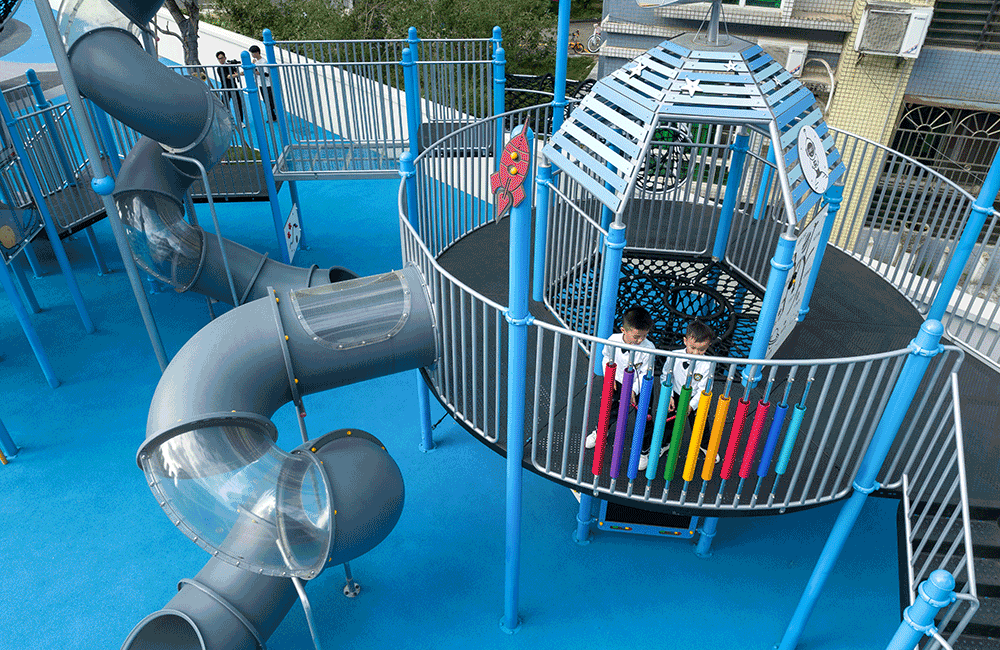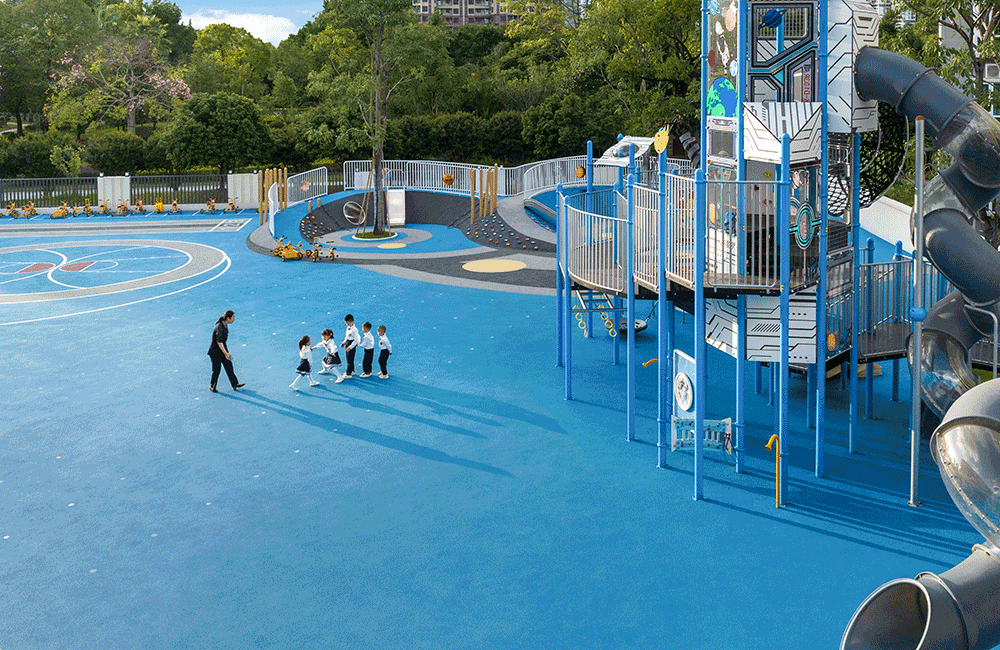 Taiya Interstellar Exploration
Interstellar Exploration leading children to travel in space, children adventure here, cheer for new findings every time and name the travel" Space Adventure Action".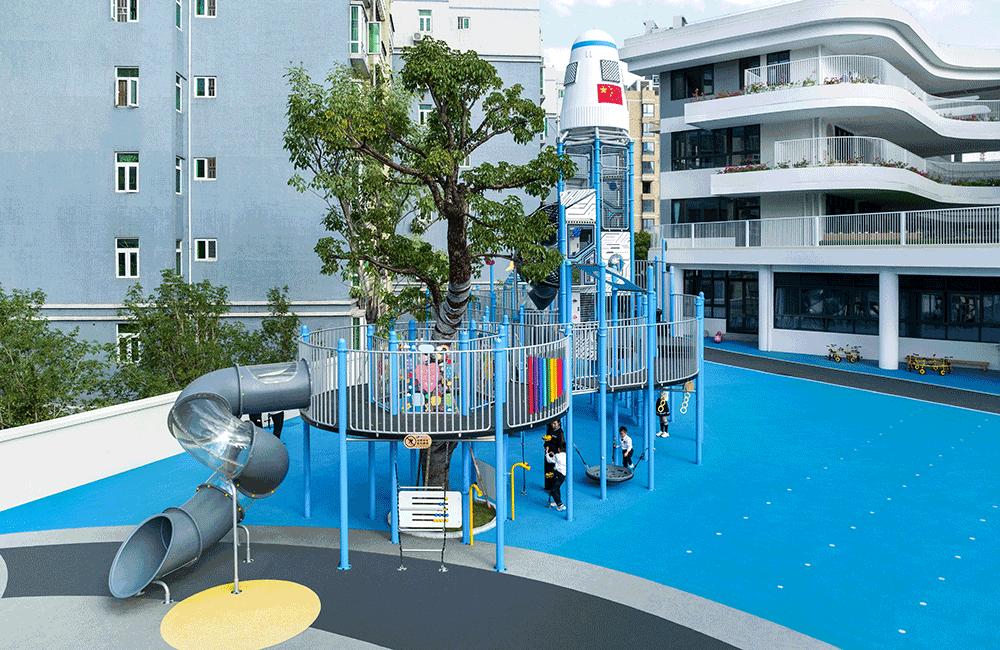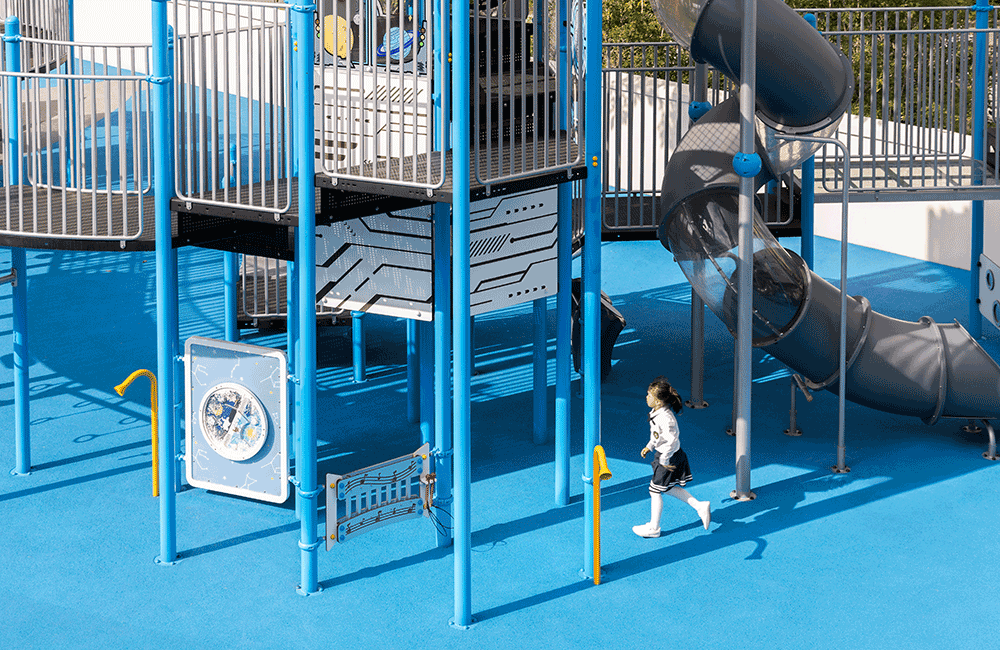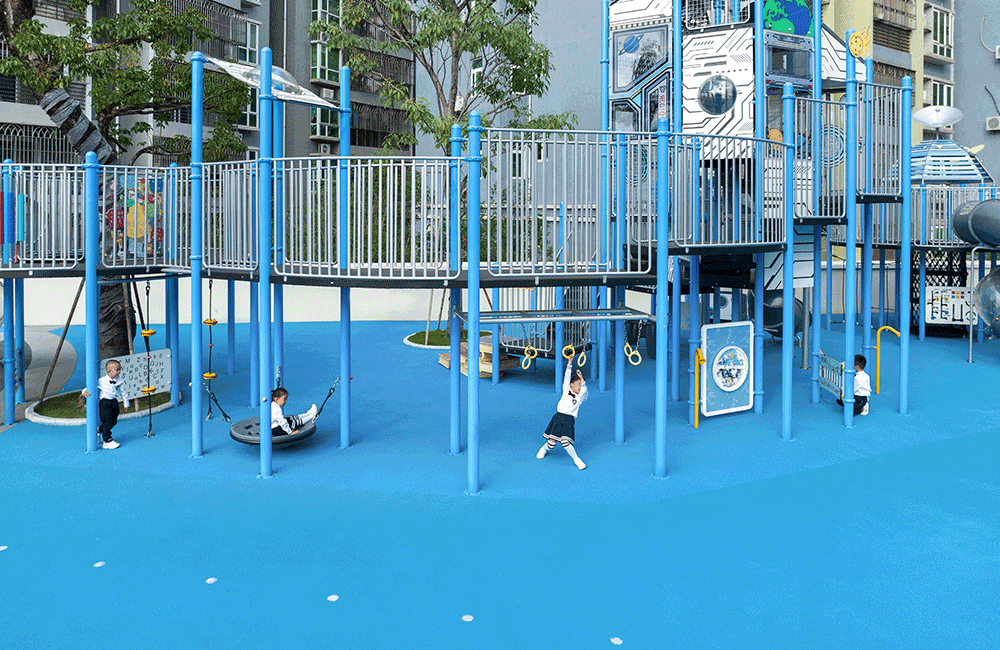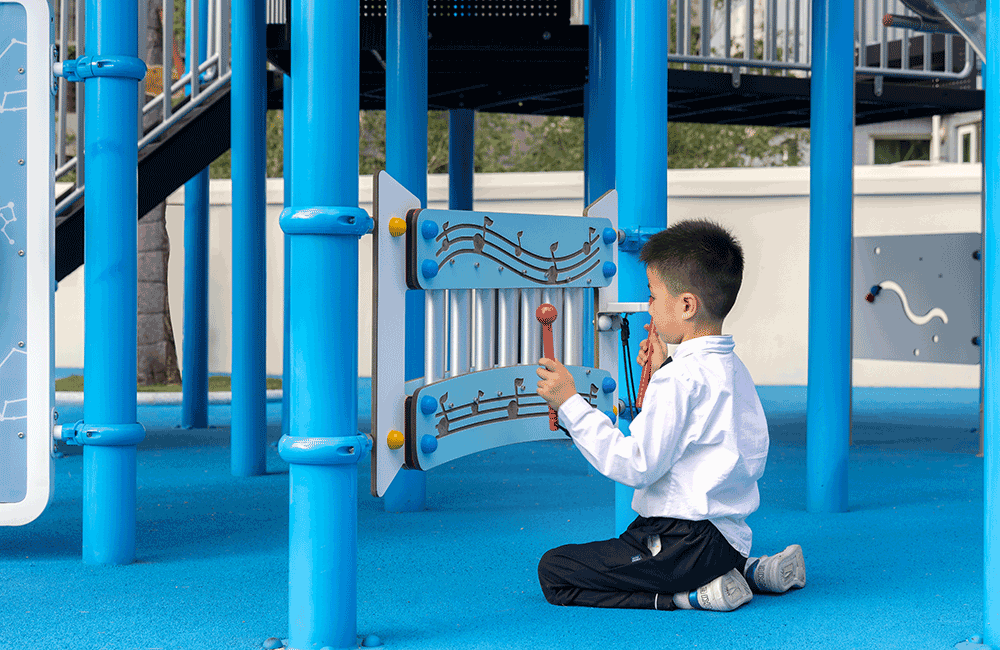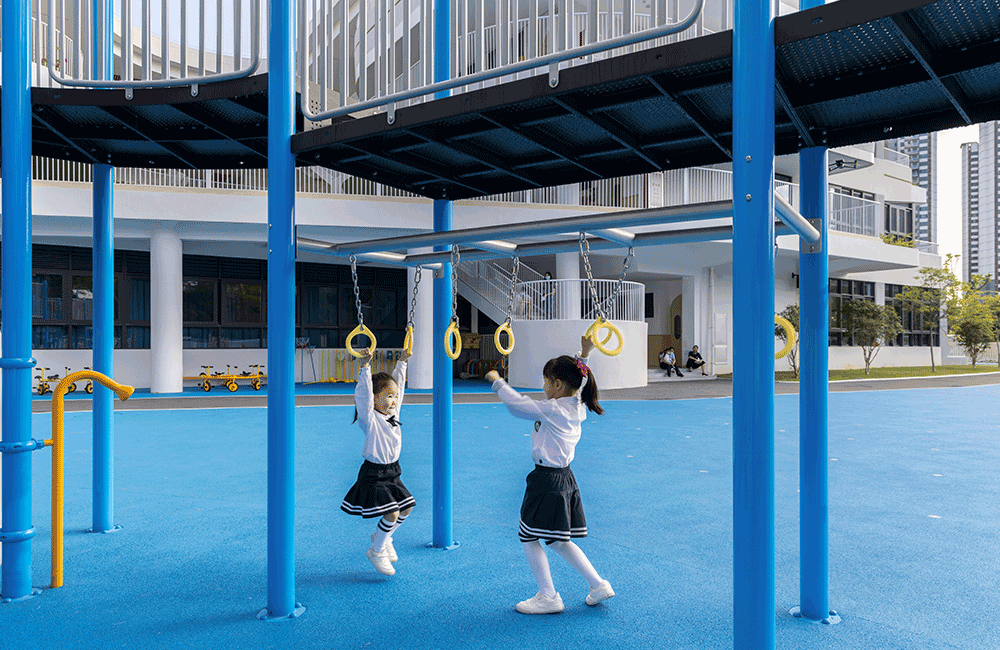 Lunar Microtopography
On their expedition, the children discovered a new land.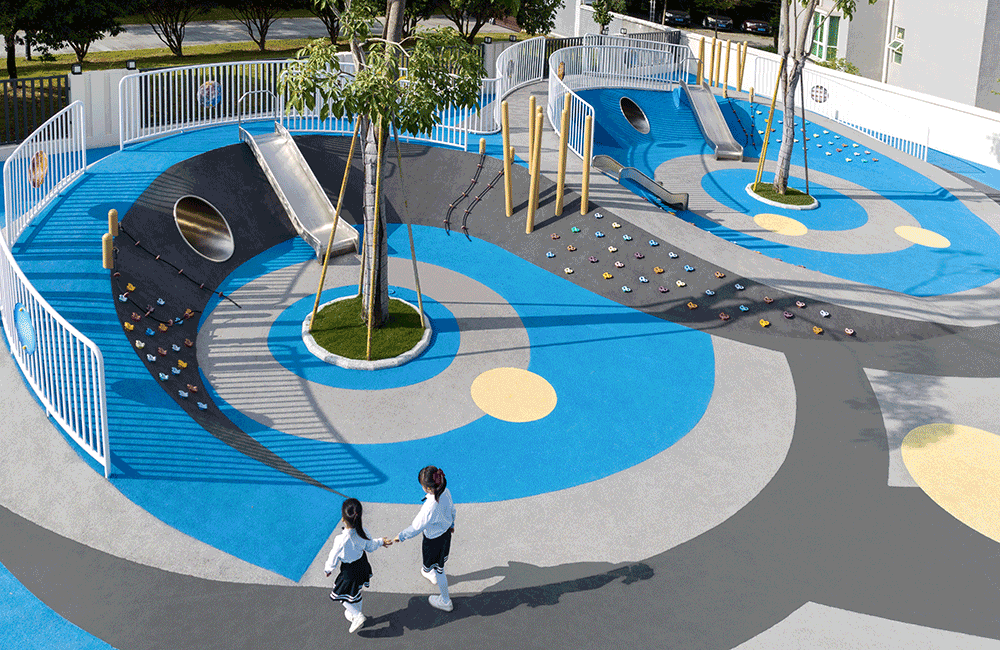 The kindergarten's outdoor play area makes use of the weak relief and corrugations of the terrain and applies the ideas for level design to arrange the drilling,slides,rock climbing points and other microtopography,creating a special activity space.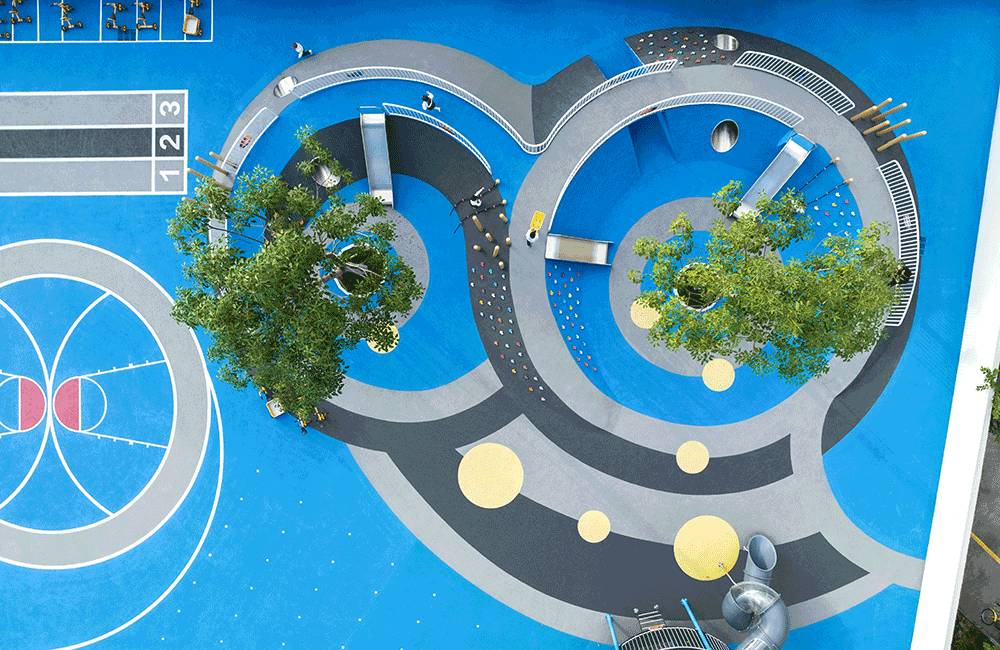 Meet the Magic Park
Sand and water are the carriers to get close to nature for kids and they have infinite shapes and endless play ways.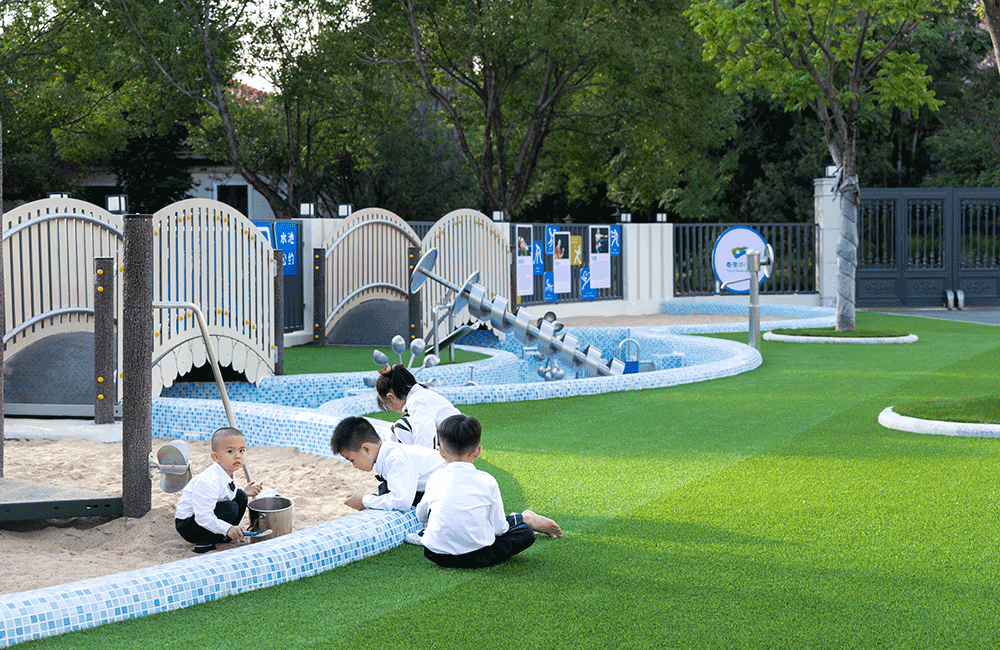 Archimedes water intake、little sluice、sandy land、little bridge in the forest, desert oases…… The scenic water and sand play area inspired hands-on interest and buried the seeds of exploration of natural science.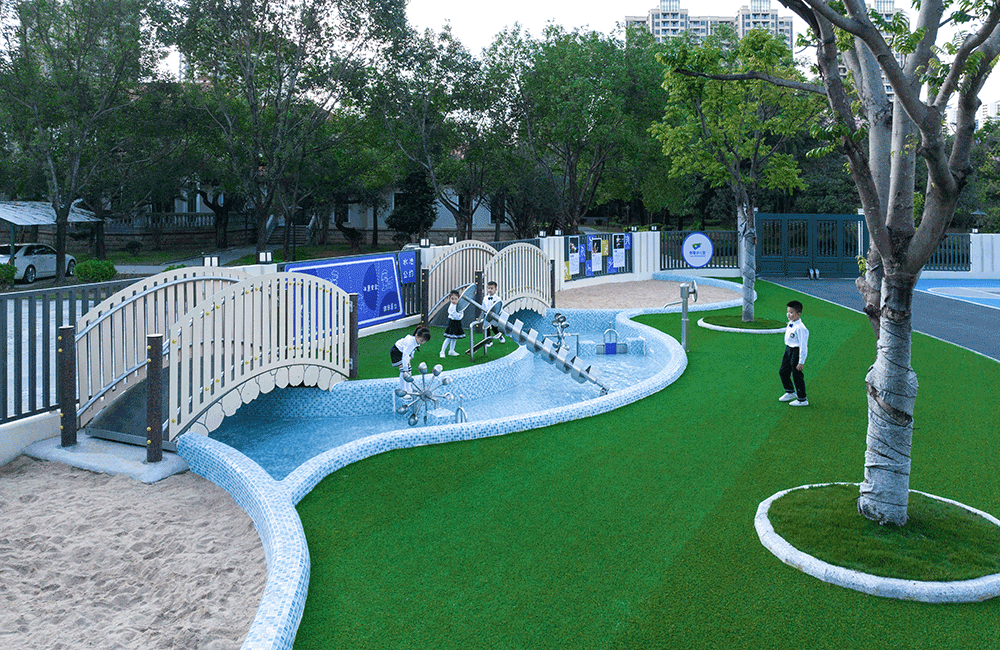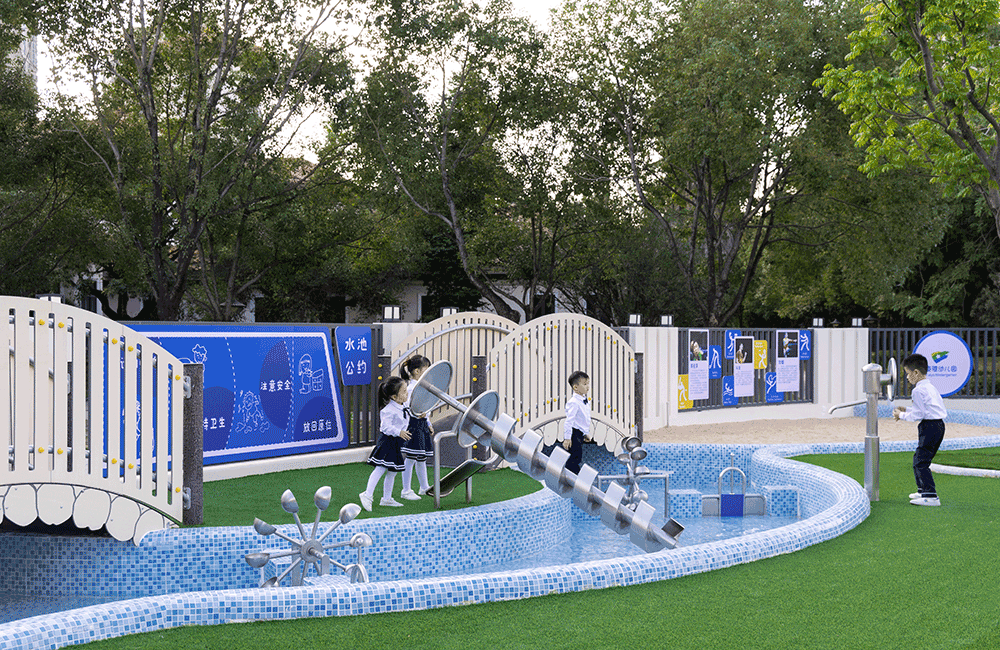 Space is Created by Interest
The simple design style of the interior is more in line with the Montessori education concept, where different stories are played out every day, and the children are either shuttling through the wonderful space or immersed in the ocean of science. The space gives them the ability to develop and transform so that education and interest are combined.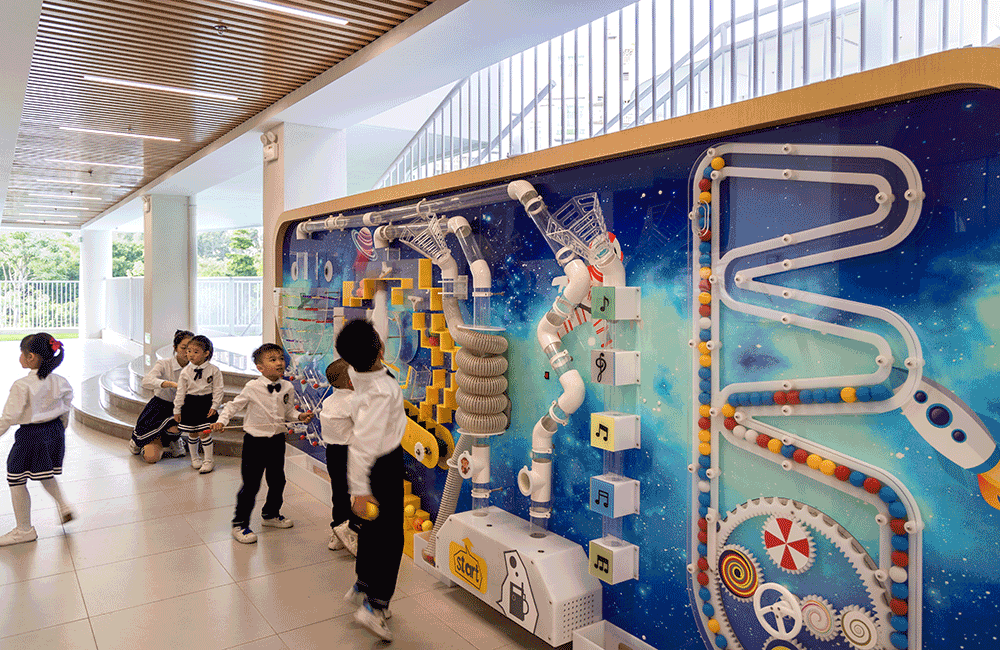 Dinosaur Secret Base
Stepping into the lobby on the first floor, the Dinosaur Egg Shape Slide can be seen. The lifelike look brings children into the Jurassic era, leading children to sail through history.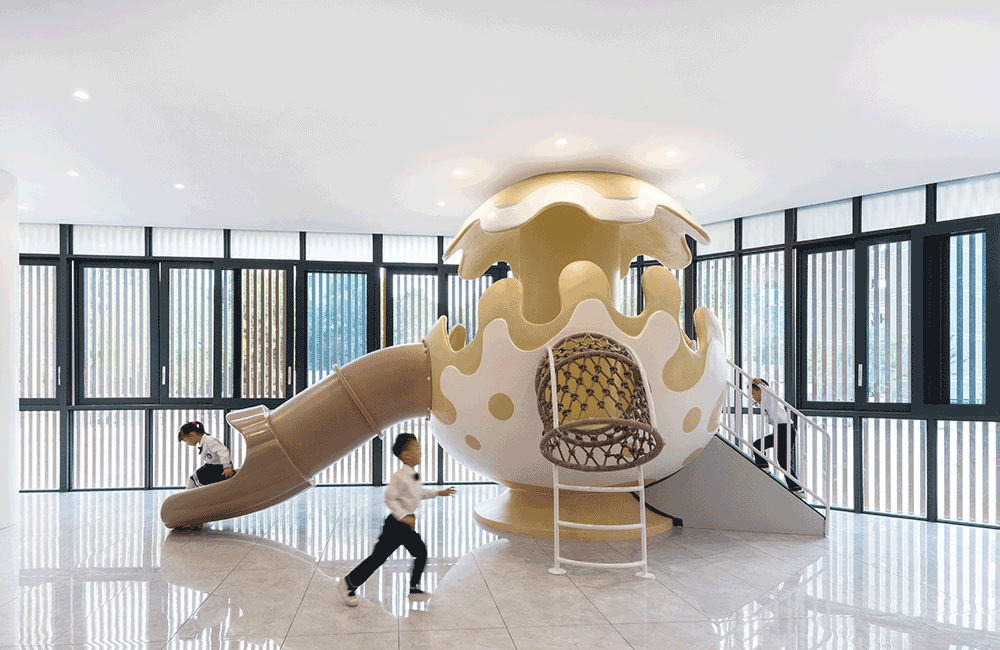 Wonderful Dream Making Space
Brushing the ink in the Art Room with infinite creativity;Casually sitting in the reading room to read the book;Opening the new world on the tip of the tongue with ingredients in the baking room;Becoming a skilled craftsman in the construction room……
Each area has a lot of fun, and there are different experiences in between.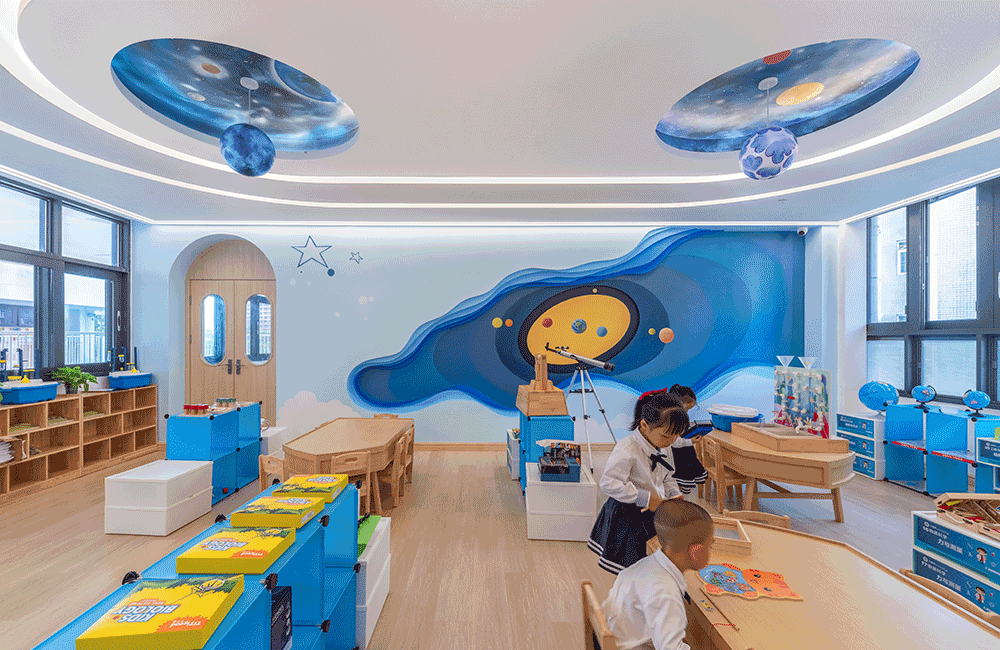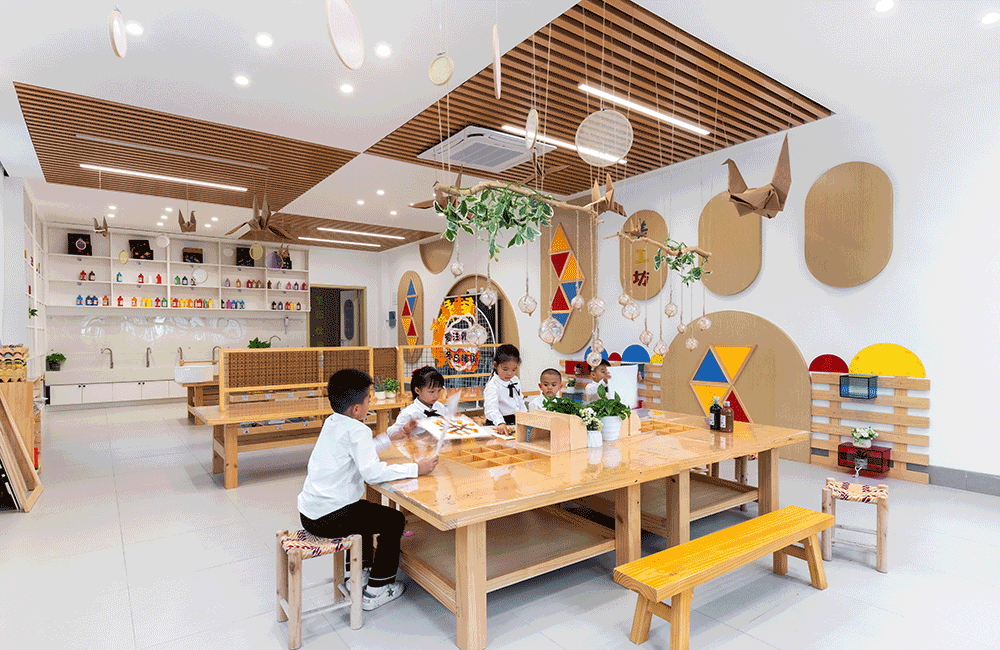 The personalized scene designs in large, medium and small class are designed to be suitable for different age group of kids and the happy laughters and cheerful voices is the best evidence.   
An excellent kindergarten not only teaches the kids knowledge and enlightens them with aesthetic education, but also implants opportunities to inspire children to think and explore nature during play.In addition,Taiya kindergarten stimulates inspiration,enlightens intelligence,walks ahead with love, and is devoted to leaving a nice childhood in children's memory.
The Landing Pictures of This Project