Cowboy Childcare Centre Design Daycare Supplies Waldorf Preschool Furniture
Walforf Kindergarten interior design concept for this project:
According to Waldorf's philosophy, warm colors are used in the preschool classroom design to create a home atmosphere, integrate education and life, and incorporate the concept of natural ecology in details, Allowing students to regularly and continuously experience each season , The natural sunlight changes in the room at different times of the day to open up their perception of colors and light, and stimulate the inherent creativity of children.
The Waldorf classroom setup is designed based the following 4 concepts:
1,Early education focus on practical and manual activity, and supply better environment for creativity play
2,Education and life are integrated, emphasizing love and warmth, and focusing on spiritual and spiritual expansion.
3,Emphasis on art education, teaching aids are hand-made with natural materials, and with labor to promote thinking development
4,Pay attention to the rhythm of learning, creativity and imagination
Reception Area:
Quoting the principles of human intellectual philosophy. One of the basic characteristics of the theory is its overall study of humans: feelings, imagination, spirit and intelligence are considered unique to each person, and thoughts, feelings and behaviors are understood to be always connected. So we are receiving The area uses relatively simple abstract patterns to create a natural atmosphere to induce children's innate creativity
Library and art (15 kids) 35㎡ : Under the design iead of tree and mountain element (Kindergarten library design )
Pre-K 2-3Y 15kids(27㎡ ): season table, kitchen play,painting display,activity zone,learning zone,gaming zone
KG1 3-4Y 15kids(25㎡ ): season table,dress up stand,activity zoon,learning zone,roly play kitchen
KG3 5-6Y 14kids(50㎡ ): season table,art zone,activity zone,learning zone,reading zone,light table
Room for kids with learning difficulties (21㎡ ) (12kids): (nursery classroom design)
Kindergarten classroom design ideas for children with learning difficulties mainly need to cultivate their social and behavioral adaptability. Help them achieve appropriate academic achievement, adapt to the school environment, social skills, and build friendships and relationships .
1,Through wall games, arouse curiosity and cultivate active learning ability.
2,Interactive learning is formed through the building block area and supermarket role-playing experience
3,Group combination training to complete comprehensive learning
Early childhood classroom design for kids with down syndrome (24㎡ ) (10kids):
This early childhood classroom layout is mainly aimed at children with Down syndrome and is designed according to the following 5 areas for different areas of mental retardation: 1- Cognitive domain: A wall game, cognition of the five sense organs, 2-Communication (language) field 3-Social conditions: different costume role-playing 4-Sports field: jumping aircraft carpet, cognitive learning, sense of balance 5-Self-care field: Play B wall games, and kitchen role-playing to exercise self-care and cognition
Kindergarten classroom setup for kids with autism (25㎡ ) (5kids):
The childcare classroom design is mainly for children with autism. According to different characteristics, each child's strengths and weaknesses are divided into areas to meet the number of daily activities. It is divided into 4 areas: construction area, drawing area, reading area, and math area
| | |
| --- | --- |
| Our childcare classroom furniture collection includes: | preschool furniture set, preschool table & chair, kindergarten storage cabinet, daycare teaching easel, kindergarten wooden storage bins & organizers, childcare cribs , daycare furniture changing table, daycare room dividers, connecting panels, preschool dramatic play furniture, soft play furniture preschool, kitchen & house play, daycare kids dress-up & role play, sofa furniture preschool, daycare bookshelf etc |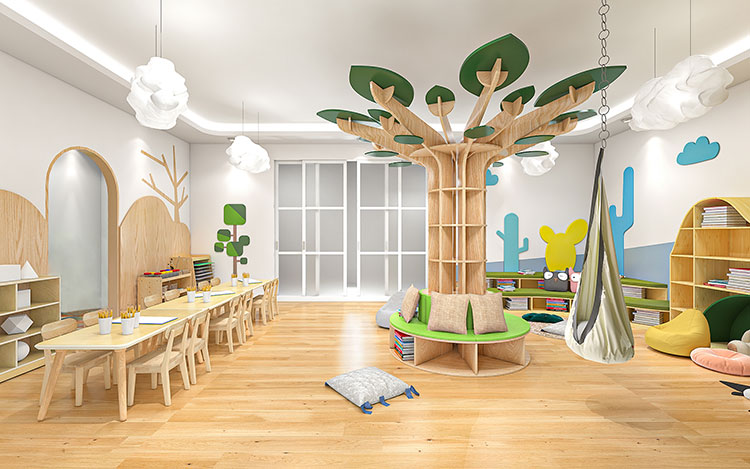 PROVIDE TOTAL SOLUTIONS TO YOUR KINDERGARTEN,PRESCHOOL,DAYCARE,KIDS CENTER.
Daycare Center Soft Play Indoor Playground Equipment

Professional Consultant+Design Service+Product Supply+Installation Guide+After Sales Service.




AIMS TO CREAT A NATURAL,SAFE,HEALTHY & HAPPY GROTH ENVIRONMENT FOR CHILDREN.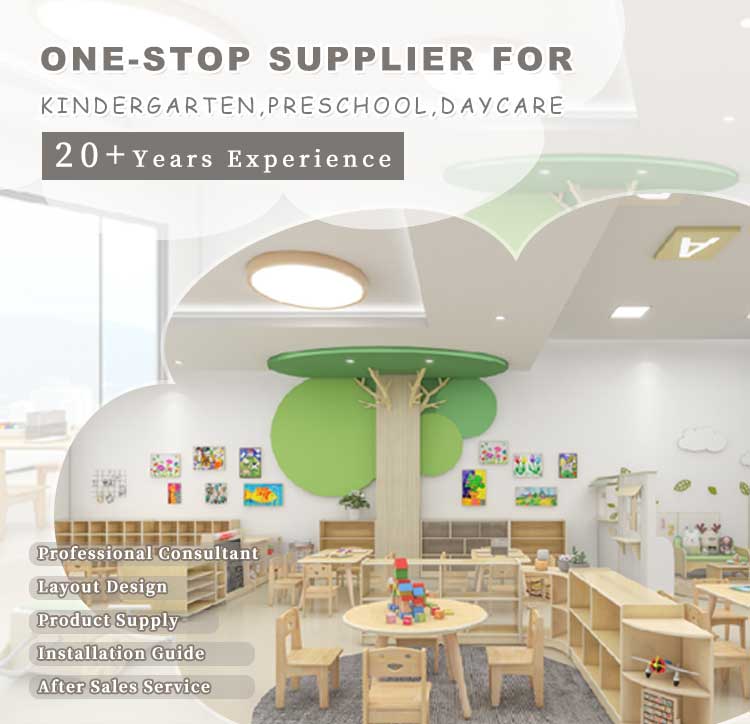 Product Type
Kindergarten Outdoor Playground Equipment Design
Material
Solid wood, Plywood, Plastic, PVC, Stainless Steel, Fiberglass
Application
International School,Kindergarten, Preschool, Daycare Center, Learning Center, Child Care Centre, Nursery School, Early Childhood Education Centre
Design Service
Expert designer team help client do whole school project planning & classroom layout design.
Scientific layout, with different function corners,take full use of the space, help setting up your preschool literacy learning center,and gym area
All ages
infant,toddler,preschool kids,pre-k children,6 weeks ,3 month baby,1-2 years,3-6 year,7-12 years children
Features
Eco-Friendly, Children Friendly, Safety Insuranced, Creative, Customized Design
Certificates
CE,TUV,GS,EN71,ISO9001,ISO18001,ISO14001
Installation
1. Offer On Site Installation Service    2. Provide Installation Instruction Drawings
Lead Time
20-35 Days
Payment Terms
T/T, Cash, 30% deposit, balance be paid before shipment, after production
Warranty
1 year warranty, 2 years after sales service