Cowboy Kindergarten Furniture Daycare Supplies Waldorf Preschool Furniture
Cowboy is the best brands for daycare furniture, kindergarten furniture, preschool furniture a to z, early childhood classroom furniture. High quality furniture and equipment for childcare, preschool, and Montessori classrooms,Walforf school. Also provide daycare room setup ideas, early childhood classroom layout, interior design for preschool classroom.
According to Waldorf school philosophy, warm colors are used in the design kindergarten classrooms to create a home atmosphere, integrate education and life, and incorporate the concept of natural ecology in details, Allowing students to regularly and continuously experience each season , The natural sunlight changes in the room at different times of the day to open up their perception of colors and light, and stimulate the inherent creativity of children.
Quoting the principles of human intellectual philosophy. One of the basic characteristics of the theory is its overall study of humans: feelings, imagination, spirit and intelligence are considered unique to each person, and thoughts, feelings and behaviors are understood to be always connected. So we are receiving. The area uses relatively simple abstract patterns to create a natural atmosphere to induce children's innate creativity
The preschool classroom is designed around the following 4 concepts:
1,Early education focus on practical and manual activity, and supply better environment for creativity play
2,Education and life are integrated, emphasizing love and warmth, and focusing on spiritual and spiritual expansion.
3,Emphasis on art education, teaching aids are hand-made with natural materials, and with labor to promote thinking development
4,Pay attention to the rhythm of learning, creativity and imagination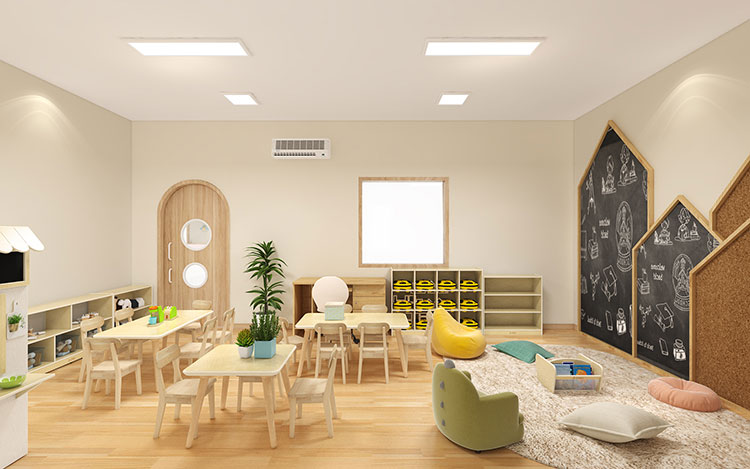 PROVIDE TOTAL SOLUTIONS TO YOUR KINDERGARTEN,PRESCHOOL,DAYCARE,KIDS CENTER.
Professional Consultant+Design Service+Product Supply+Installation Guide+After Sales Service.




AIMS TO CREAT A NATURAL,SAFE,HEALTHY & HAPPY GROTH ENVIRONMENT FOR CHILDREN.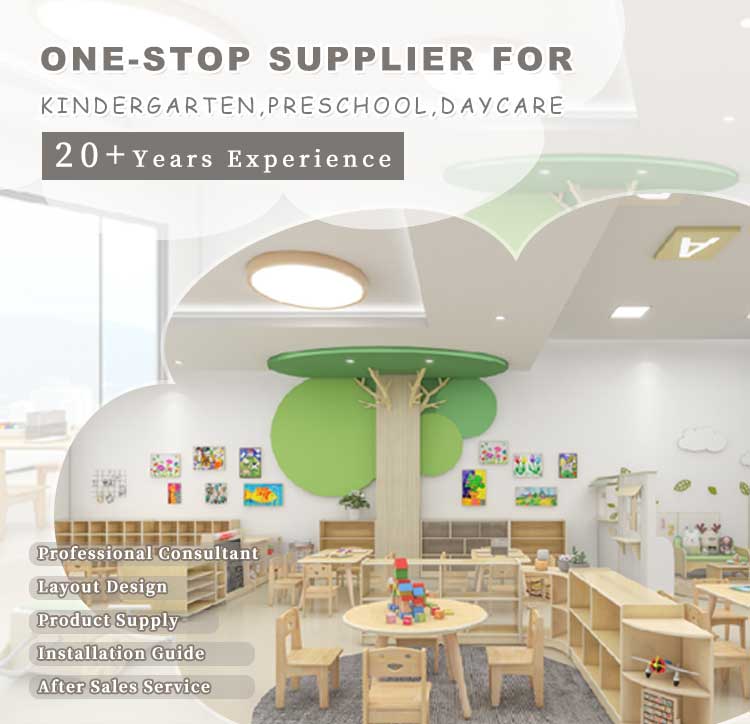 Product Type
Kindergarten Outdoor Playground Equipment Design
Material
Solid wood, Plywood, Plastic, PVC, Stainless Steel, Fiberglass
Application
International School,Kindergarten, Preschool, Daycare Center, Learning Center, Child Care Centre, Nursery School, Early Childhood Education Centre
Design Service
Expert designer team help client do whole school project planning & classroom layout design.
Scientific layout, with different function corners,take full use of the space, help setting up your preschool literacy learning center,and gym area
All ages
infant,toddler,preschool kids,pre-k children,6 weeks ,3 month baby,1-2 years,3-6 year,7-12 years children
Features
Eco-Friendly, Children Friendly, Safety Insuranced, Creative, Customized Design
Certificates
CE,TUV,GS,EN71,ISO9001,ISO18001,ISO14001
Installation
1. Offer On Site Installation Service    2. Provide Installation Instruction Drawings
Lead Time
20-35 Days
Payment Terms
T/T, Cash, 30% deposit, balance be paid before shipment, after production
Warranty
1 year warranty, 2 years after sales service