Daycare Educational Natural Play Custom Design Outdoor Playground for Nursery School
Suitable Age: 1-6 Years Old
Design Creativity:According to the school's British education EYFS teaching philosophy, to create a supportive environment with rich choices, which kids can experience and challenge different fields at their own pace.Provide opportunities for kids to find their own talents and start an extraordinary early life journey here.
Outdoor play areas in kindergartens are just as important as indoor spaces, providing children with a range of opportunities to explore, discover and develop their physical abilities. The playground offers a variety of equipment that encourages imaginative play, social interaction, and physical exercise. Here are some of the key features that make the area so popular with children:
Trevor Playground: This is a popular spot for children who love to climb, balance, and explore. The playground features climbing walls, rope ladders, and tunnels that allow kids to challenge themselves and develop their coordination and balance.
Flower Swing: One of the most beautiful pieces of equipment on the playground is the flower swing. Designed to look like a giant flower, this swing is big enough for a group of kids to ride together, encouraging cooperation and teamwork.
Rotationer: The Rotationer is a spinning device that kids can hold on to as they spin at high speeds. This equipment helps to develop children's core strength and balance, while providing a fun and exhilarating ride.
Small Hills: The playground hill is perfect for kids to run up and down, jump off, and play games. These hills offer a range of different challenges for children to explore, from steep slopes to gentle inclines.
Seesaw: The seesaw provides a classic playground experience, allowing children to work together to maintain balance and play. The play equipment encourages communication and social interaction, as children must cooperate to move the seesaw up and down.
Physical Exercise: An important part of any playground is the opportunity for physical activity. The playground at the kindergarten provides children with a range of activities that encourage them to run, jump, climb, and play, helping to develop their physical abilities and improve their health and fitness.
Music Area: Finally, the music area at the playground is a fun and creative space for children to explore their musical talents. Featuring a range of different instruments, including drums, xylophones, and chimes, this area encourages children to experiment with different sounds and rhythms, and to express themselves through music.
Overall, outdoor play areas in kindergartens provide children with a range of different activities and experiences that help support their development and wellbeing. From climbing and balancing, to teamwork and social interaction, playgrounds provide a safe and stimulating space for children to explore, play and grow.
To customize your daycare outdoor play equipment,you can find the ideal daycare playground equipment to encourage growth and play.
Discover the perfect preschool outdoor play equipment for your centre at Cowboy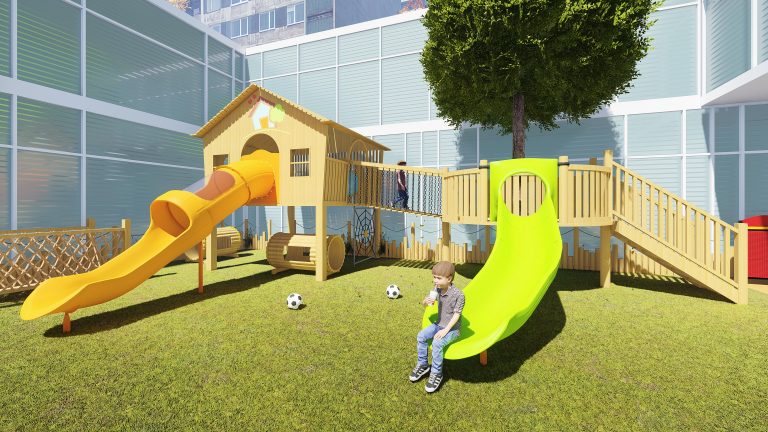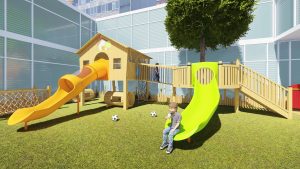 PROVIDE TOTAL SOLUTIONS TO YOUR KINDERGARTEN,PRESCHOOL,DAYCARE,KIDS CENTER.
Professional Consultant+Design Service+Product Supply+Installation Guide+After Sales Service.




AIMS TO CREAT A NATURAL,SAFE,HEALTHY & HAPPY GROTH ENVIRONMENT FOR CHILDREN.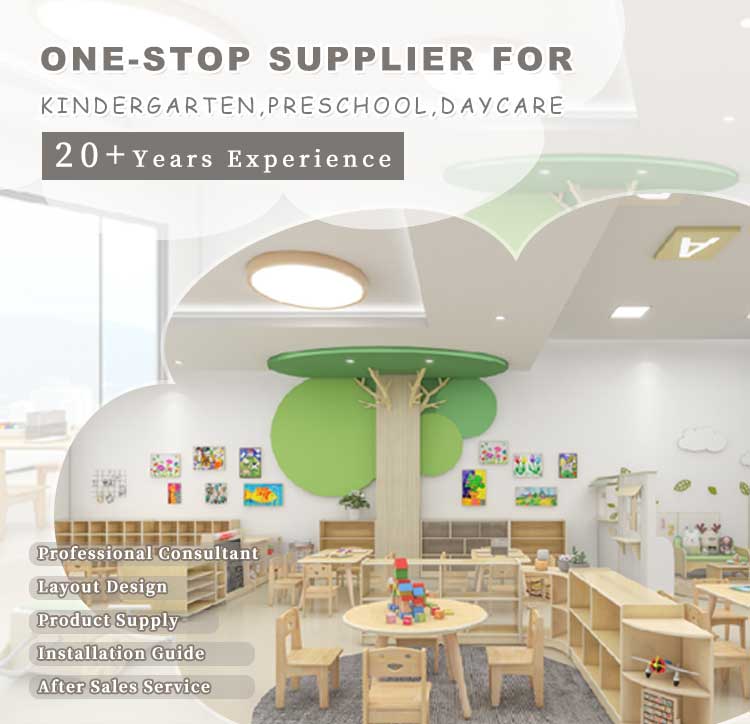 Product Type
Kindergarten Outdoor Playground Equipment Design
Material
Solid wood, Plywood, Plastic, PVC, Stainless Steel, Fiberglass
Application
International School,Kindergarten, Preschool, Daycare Center, Learning Center, Child Care Centre, Nursery School, Early Childhood Education Centre
Design Service
Expert designer team help client do whole school project planning & classroom layout design.
Scientific layout, with different function corners,take full use of the space, help setting up your preschool literacy learning center,and gym area
All ages
infant,toddler,preschool kids,pre-k children,6 weeks ,3 month baby,1-2 years,3-6 year,7-12 years children
Features
Eco-Friendly, Children Friendly, Safety Insuranced, Creative, Customized Design
Certificates
CE,TUV,GS,EN71,ISO9001,ISO18001,ISO14001
Installation
1. Offer On Site Installation Service    2. Provide Installation Instruction Drawings
Lead Time
20-35 Days
Payment Terms
T/T, Cash, 30% deposit, balance be paid before shipment, after production
Warranty
1 year warranty, 2 years after sales service