Kindergarten Furniture Set for Wide Open Daycare Center Classroom
The wide open daycare center classroom covering an area of 103㎡ is designed for kids aged 3-6 years old, and it adopts the Montessori method of education as the design concept. The design of a wide open daycare center classroom can encourage kids to communicate with their partners and is convenient for teachers to shuttle between different functional areas for guidance.
The overall design of the kindergarten classroom design uses the minimalism of the log style and adds the shapes of a wisdom tree to embellish the kindergarten classroom, which can further stimulate children's curiosity and thirst for knowledge and encourage them to explore the ocean of knowledge. In addition, the entire wide open kindergarten classroom design applies log colors as the main color, matching premium wooden nursery setting furniture, which is more healthy, green, and low damage for kids. Besides, this design is close to the natural environment and mainly uses natural materials instead of artificial materials which can let children learn and play like in nature. Therefore, the kindergarten classroom looks warm and comfortable, it can make kids, especially those who are introverted, explore and study in the exquisite environment.
The wide open daycare center classroom contains several functional areas, including classroom area, block area, reading area, creative painting area, and soft play area. Children can according to their interest and need choose the functional area, which can be satisfied with the different need of different kids at the same time.
Cowboy Group is a preschool supplier store which is to provide premium nursery setting furniture for clients and it has committed to creating a vitality and not yet novel, smart kindergarten classroom for preschool, kindergarten, play school, daycare center, and other kinds of children school. Cowboy Group can not only provide the client with high-quality wooden preschool furniture but also offer the whole preschool custom design solution. Cowboy Group has committed to this area for 20 years, as long as you need, Cowboy is always by your side.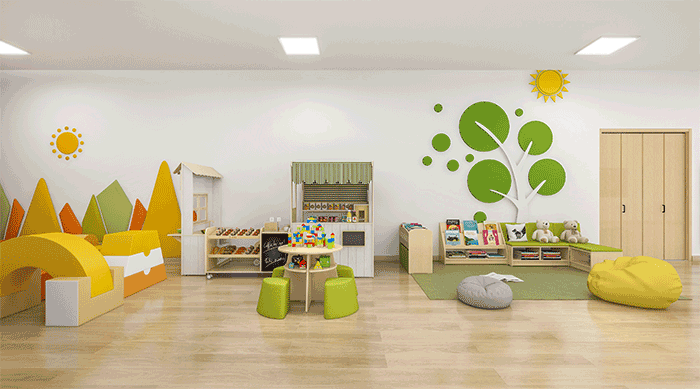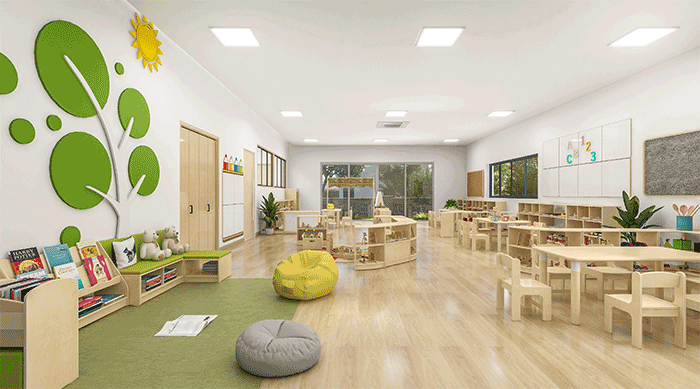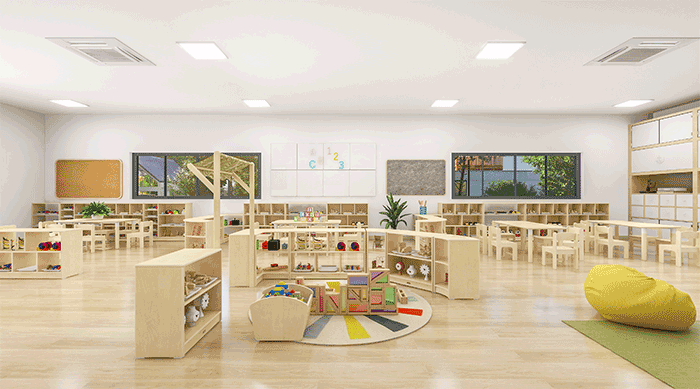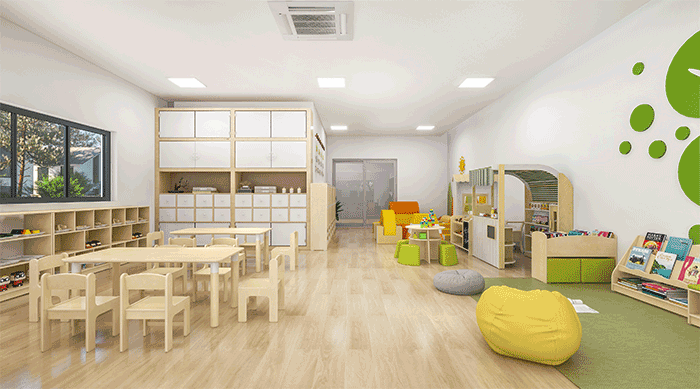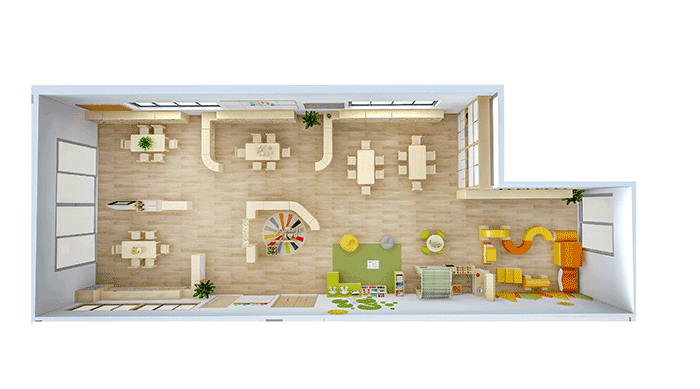 | | |
| --- | --- |
| Our classroom furniture collection includes: | furniture set, preschool table & chair, storage cabinet, teaching easel, wooden storage bins & organizers, cribs,changing tables, room dividers, connecting panels, dramatic play furniture, play furniture, kitchen & house play, daycare kids dress-up & role play, kids sofa, bookshelf etc |

Product Type
Kindergarten Outdoor Playground Equipment Design
Material
Solid wood, Plywood, Plastic, PVC, Stainless Steel, Fiberglass
Application
International School,Kindergarten, Preschool, Daycare Center, Learning Center, Child Care Centre, Nursery School, Early Childhood Education Centre
Design Service
Expert designer team help client do whole school project planning & classroom layout design.
Scientific layout, with different function corners,take full use of the space, help setting up your preschool literacy learning center,and gym area
All ages
infant,toddler,preschool kids,pre-k children,6 weeks ,3 month baby,1-2 years,3-6 year,7-12 years children
Features
Eco-Friendly, Children Friendly, Safety Insuranced, Creative, Customized Design
Certificates
CE,TUV,GS,EN71,ISO9001,ISO18001,ISO14001
Installation
1. Offer On Site Installation Service    2. Provide Installation Instruction Drawings
Lead Time
20-35 Days
Payment Terms
T/T, Cash, 30% deposit, balance be paid before shipment, after production
Warranty
1 year warranty, 2 years after sales service