Cowboy Kindergarten Furniture Preschool Set Up Nursery School Furniture Suppliers
Kindergarten Design Concept:
The recreation space on the first floor integrates the elements of "hill and tree", mixes play and learning together, so that children can be in close contact with nature and get educations through entertainment. The mezzanine is designed with the theme of "mini town"as the main function room, so that childcare children can learn the knowledge of financial transactions in the game. The preschool classroom on the second floor is themed with four kinds of small animals. The "squirrel" classroom represents diligence, the "elephant" classroom represents faith, the "polar bear" classroom represents strength, and the "woodpecker" classroom represents wisdom. To avoid the stylized multi-leveled teaching, introduce natural elements to create a new narrative space, so as to guide children to explore the mysteries and learn the spirit of the nature.
The daycare design adopts natural log materials and integrates the form of "hill and tree" to invite "nature" into the kindergarten, so that children can have close contact with nature.
Project introduction: The designer team has created a multi-selective space that can effectively guide children to express themselves and create an exploratory learning space for children. Through environmental stimulation, the experience can be installed in the children's mind, which can stimulate children to learn Inner mobility.
The daycare activity equipment develop important motor skills and coordination with SoftZone Climb and Crawl Playtime. This colorful  soft play set, with open-ended play encourages imagination, creativity, and helps develop independence as toddlers climb, crawl, stack and sort these lightweight shapes. Designed for everyday use in daycares, preschools, kindergarten classrooms.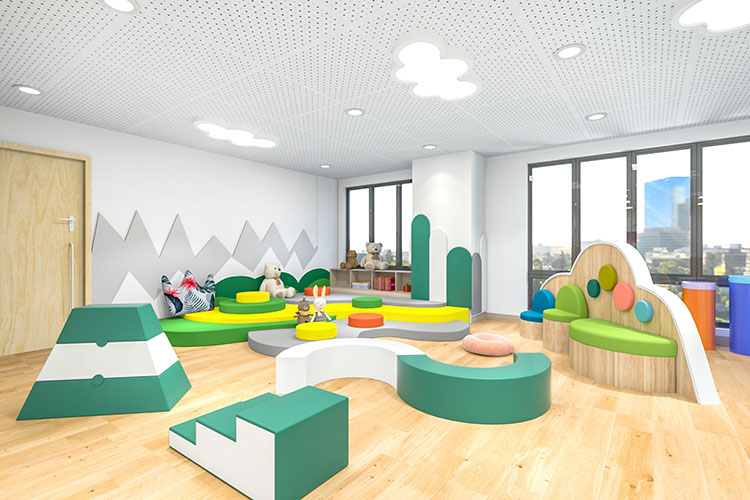 PROVIDE TOTAL SOLUTIONS TO YOUR KINDERGARTEN,PRESCHOOL,DAYCARE,KIDS CENTER.
Professional Consultant+Design Service+Product Supply+Installation Guide+After Sales Service.




AIMS TO CREAT A NATURAL,SAFE,HEALTHY & HAPPY GROTH ENVIRONMENT FOR CHILDREN.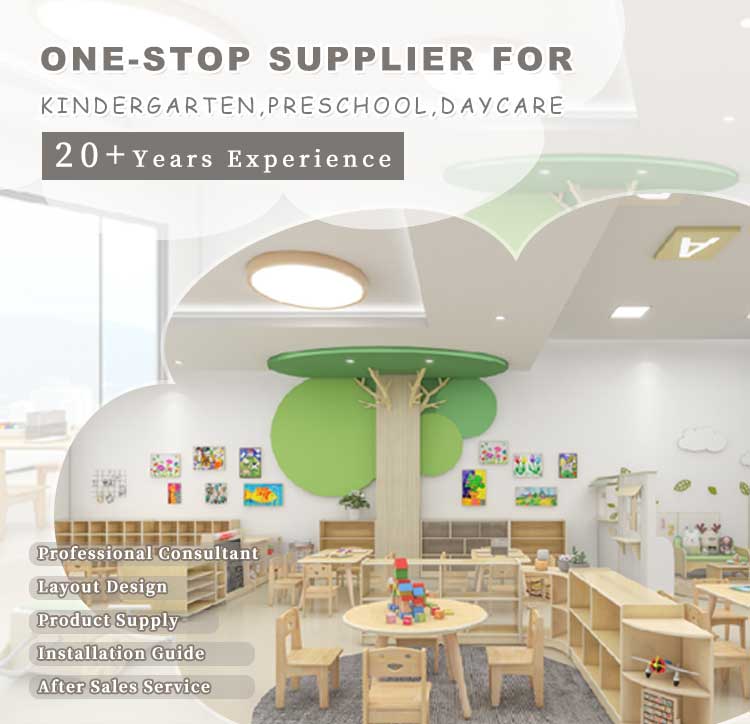 Product Type
Kindergarten Outdoor Playground Equipment Design
Material
Solid wood, Plywood, Plastic, PVC, Stainless Steel, Fiberglass
Application
International School,Kindergarten, Preschool, Daycare Center, Learning Center, Child Care Centre, Nursery School, Early Childhood Education Centre
Design Service
Expert designer team help client do whole school project planning & classroom layout design.
Scientific layout, with different function corners,take full use of the space, help setting up your preschool literacy learning center,and gym area
All ages
infant,toddler,preschool kids,pre-k children,6 weeks ,3 month baby,1-2 years,3-6 year,7-12 years children
Features
Eco-Friendly, Children Friendly, Safety Insuranced, Creative, Customized Design
Certificates
CE,TUV,GS,EN71,ISO9001,ISO18001,ISO14001
Installation
1. Offer On Site Installation Service    2. Provide Installation Instruction Drawings
Lead Time
20-35 Days
Payment Terms
T/T, Cash, 30% deposit, balance be paid before shipment, after production
Warranty
1 year warranty, 2 years after sales service