Child Care Center Design Preschool Daycare Furniture and Supplies
This is a small size child care centre design. Include two daycare classrooms.
One classroom is 71㎡,for 5-6 years kids, capacity of 30 children.
One classroom is 58㎡,for 4-5 years kids, capacity of 25 children.
Both childcare classrooms are wide opending style. We are doing this child care center design with natural birch plywood classroom furniture. These kindergarten classrooms setup cover different functional areas. From study area, to reading area, art & craft area,dramatic play area. From corridor area to wall decorations. All the necessary early childhood furniture and classroom supplies is to ensure that children are comfortable and in an engaging learning environment from day one. Cowboy is the leading manufacturer and supplier of preschool furniture & playground equipment, helping daycare owner to do preschool set up. Provide customize design service, supply all the kindergarten furniture and activity equipment to meet standards and price point. Offer the best preschool daycare furniture and supplies.
Product Type
Attractive, strong, child-safe birch plywood preschool classroom furniture.
Application
International School,Kindergarten, Preschool, Daycare Center, Learning Center, Child Care Centre, Nursery School, Early Childhood Education Centre
Design Service
Expert designer team help client do whole school project planning & classroom layout design.
Scientific layout, with different function corners,take full use of the space, help setting up your preschool literacy learning center
All ages
infant,toddler,preschool kids,pre-k children,6 weeks ,3 month baby,1-2 years,3-4 year,5-6 years,pre-primary kids
Features
Eco-Friendly, Children Friendly, Safety Insuranced, Creative, Customized Design,Easy-to-clean surface,easy assembling
Certificates
CE,TUV,GS,EN71,ISO9001,ISO18001,ISO14001
Installation
1. Offer On Site Installation Service    2. Provide Installation Instruction Drawings
Lead Time
Have Stock, 5-30 Days
Payment Terms
T/T, Cash, 30% deposit, balance be paid before shipment, after production
Warranty
1 year warranty, 2 years after sales service
Classroom furniture
Designed to enrich environments ideal for learning and play, our furniture provides children with easy access to the tools they need. From tables and storage units, to cribs and even sand and water tables, Cowboy's high-quality furniture meets the unique needs of early childhood classrooms.
Premium
Birch Plywood Series
Durable and beautiful, our Premium Solid Birch Plywood furniture collection invites children into a rich world of imaginative play and learning. Modern and attractive, this high-quality collection is the perfect addition to any learning center, classroom, or childcare center. From storage solutions and bookshelves, to dramatic play sets and child-sized furniture, Cowboy's Premium Birch Plywood collection is ideal for creating enriching learning experiences and environments.Encourage creativity in the classroom and are easy to accommodate to children of all ages.
Classroom layout design
3 years & up. Beautiful, classic mission style room set includes sofa, chair, and end table. Excellent setting to inspire imaginative play or quiet reading.
Product Advantage:
* One-stop supplier, provide classroom layout design,supply all the furnitures,indoor & outdoor playground equipment
* Fine texture, beautiful pattern, smooth material, and natural feeling;
* Features rounded, smooth-sanded corners and edges,safe for kids
* Easy-to-clean surface, UV protective finish helps prevent scratches and stains
* Furniture made of solid wood,imported birch plywood, durable and wear corrosion resistant;
* Having excellent toughness, birch plywood can be manufactured into various shapes according to needs;
* Furniture made of birch plywood, can be beautiful while having fine texture, high strength and being waterproof;
* Birch wood is usually used for luxurious furniture making, suitable for internationa kindergarten/preschool/daycare centre
* Food grade UV paint
* Recycling birch /rubber wood
| | |
| --- | --- |
| Our classroom furniture collection includes: | furniture set, preschool table & chair,storage cabinet,teaching easel,wooden storage bins & organizers,cribs ,changing tables, room dividers, connecting panels,dramatic play furniture,play furniture, kitchen & house play,daycare kids dress-up & role play,kids sofa,bookshelf etc |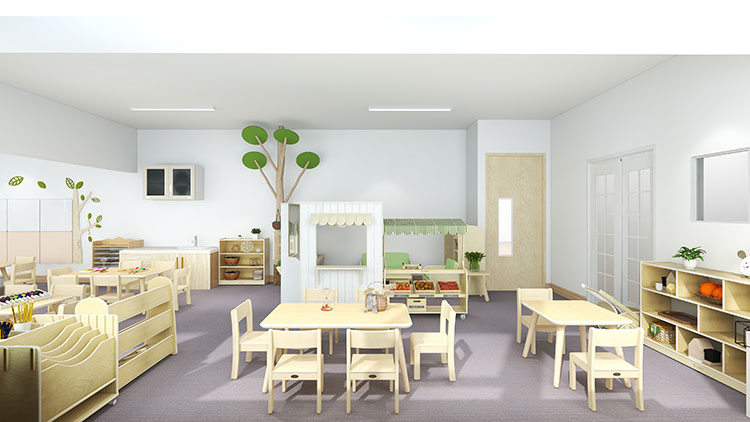 PROVIDE TOTAL SOLUTIONS TO YOUR KINDERGARTEN,PRESCHOOL,DAYCARE,KIDS CENTER.
Daycare Center Kids Indoor Preschool Playground Equipment

Professional Consultant+Design Service+Product Supply+Installation Guide+After Sales Service.




AIMS TO CREAT A NATURAL,SAFE,HEALTHY & HAPPY GROTH ENVIRONMENT FOR CHILDREN.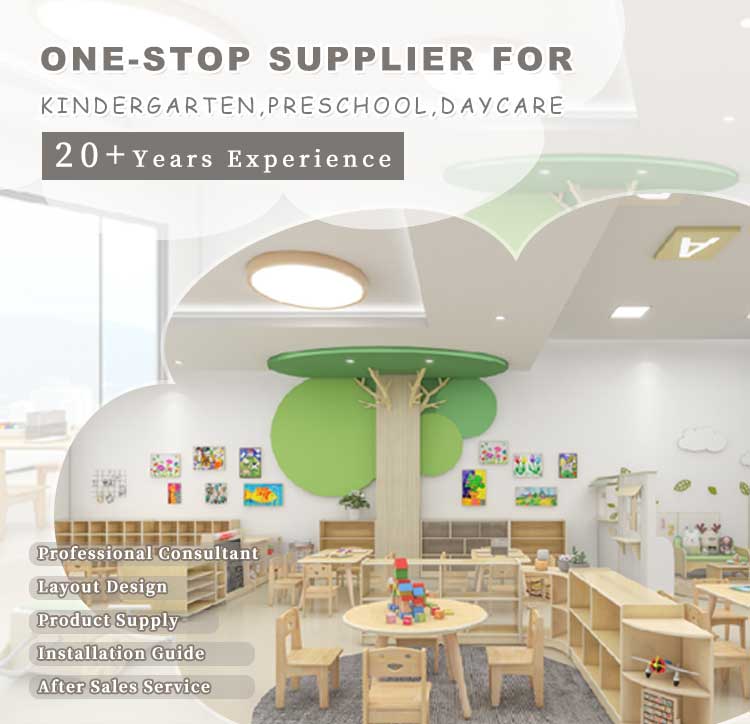 Product Type
Kindergarten Outdoor Playground Equipment Design
Material
Solid wood, Plywood, Plastic, PVC, Stainless Steel, Fiberglass
Application
International School,Kindergarten, Preschool, Daycare Center, Learning Center, Child Care Centre, Nursery School, Early Childhood Education Centre
Design Service
Expert designer team help client do whole school project planning & classroom layout design.
Scientific layout, with different function corners,take full use of the space, help setting up your preschool literacy learning center,and gym area
All ages
infant,toddler,preschool kids,pre-k children,6 weeks ,3 month baby,1-2 years,3-6 year,7-12 years children
Features
Eco-Friendly, Children Friendly, Safety Insuranced, Creative, Customized Design
Certificates
CE,TUV,GS,EN71,ISO9001,ISO18001,ISO14001
Installation
1. Offer On Site Installation Service    2. Provide Installation Instruction Drawings
Lead Time
20-35 Days
Payment Terms
T/T, Cash, 30% deposit, balance be paid before shipment, after production
Warranty
1 year warranty, 2 years after sales service