Date:30 October – 1 November 2023

Location:Dubai World Trade Centre, Za'abeel Halls 4, 5 & 6

Booth No.:E31(Za'abeel Halls 4-6)
The annual Global Educational Supplies & Solutions, Dubai (GESS) organized by Dubai International Exhibition Company is the largest and most authoritative education products exhibition in the Middle East and it will be held at the Dubai World Trade Centre, Za'abeel Halls 4, 5 & 6 from October 30th to November 1st, 2023. As the Chinese outstanding overall school custom &design expert and premium kindergarten equipment supply company, Cowboy Group will showcase the exhibition to conduct face-to-face negotiation with customers and have a learning and communicate with industry enterprises. At that time, Cowboy Group are waiting for your visit at Booth No. E31.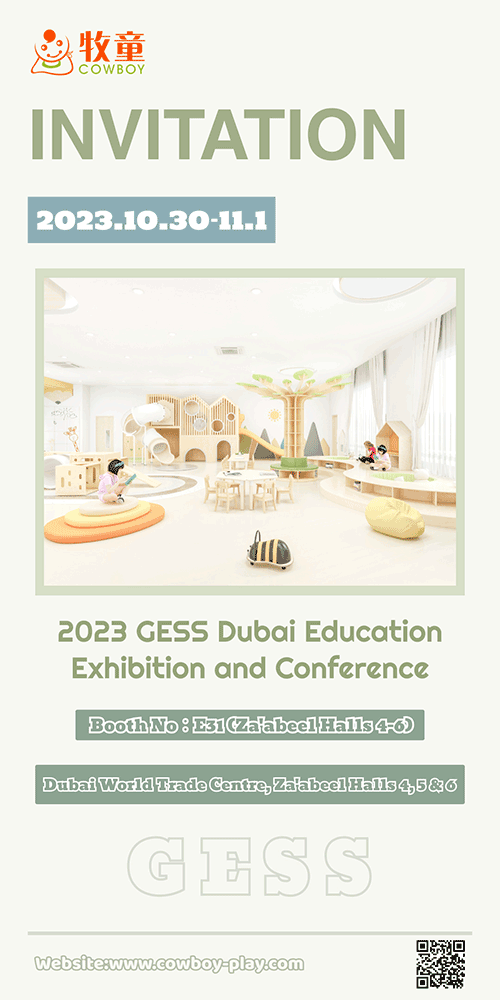 What is GESS?
As the leading education conference & exhibition in the Middle East region, up to now, GESS has been registered by about 20 thousand visitors and more than 800 exhibitors and exhibition brands whose countries include China, Japan, Malaysia, Italy, etc.GESS is organized in partnership with the Ministry of Education and held under the patronage of His Highness Sheikh Mohammed bin Rashid Al Maktoum, Vice President and Prime Minister of the UAE and the Ruler of Dubai. Furthermore, GESS Dubai has been the focal point for education in the Middle East and beyond for 15 years. Moreover, the exhibition not only provides educators with access to the products and solutions that meet the needs of the modern classroom and transform the way students learn but also runs an extensive conference program and awards ceremony, making GESS Dubai the complete event for the education industry.
Cowboy Group and GESS
Cowboy Group has been committed to the overall school custom &design and supplying premium kindergarten equipment and furniture for more than 20 years. During these 20 years, Cowboy has constantly been improving its comprehensive abilities from several dimensions including managing systems, manufacturing technology and machines, the team professionalism and the quality of products, etc.GESS as a known educational exhibition, Cowboy Group will seize this opportunity to show our businesses, advantages and products, making the customers and industry companies more understand Cowboy Group.
About Cowboy Group
Cowboy Group is a leading manufacturer in Guangdong, for preschool furniture, school indoor playgrounds and kindergarten outdoor playground equipment. Furthermore, Cowboy Group with a professional R & D team provides customized design solutions for nursery schools, childcare centers,and play schools, helps clients do the preschool classroom set up, and also works on indoor activity room and outdoor playground layout design. Moreover, Cowboy only provides premium quality kindergarten furniture and playground equipment for the customer. After 20 years of development and growth, Cowboy Group is now a one-stop shop for kindergarten, preschool, nursery school,K12 international school, play school, childcare center, and early learning center.